Turn Thoughts into EDR with ease
New international version to be released soon!
Streamlining integration with practice software systems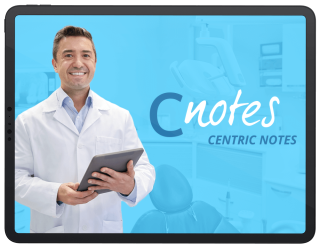 C Notes was created to make note writing complete and easy.
C Notes is practice software used to write clinical notes. Utilizing the touchpad benefits of an iPad, C Notes writes clinical notes easily without having to type and compose sentences.
You wish you had a template for every situation. Now you do! Allowing the practitioner to write complete detailed notes efficiently frees up practice time. For the active practice where both the staff and doctor write notes, C Notes levels the playing field so all notes will be written with the same detail.
C Notes Features
Removes a major barrier to going paperless
Generates an accurate detailed clinical notes
Interactive charts and images
Reduces errors and omissions
Improves risk management.
Creates comprehensive notes without typing
Quicker than templates, typed notes, handwritten notes, or dictation
No burdensome checklists to reduce efficiency
Specific notes to be written without editing
Supports 11 dental departments including implants
Robust examination department
Contains custom digital consent forms tailored to your consult
Allows digital patient signatures
Secure encryption transfer of patient data information
Integrates with Dropbox so notes can be accessed remotely
Easily added to patient treatment notes or patient attachments folder
Customer Reviews
What our clients are saying
After so many failed attempts were finally able to go paperless after switching to cNotes.
Using cNotes has helped us cut down on so many of the errors that used to reoccur all the time. We can't live without it.
cNotes has saved our team so much time since it takes care of all the tasks that used to require micromanagement.